The SEO CORE AI Plugin for ChatGPT is a cutting-edge tool designed to help you boost your search engine rankings and improve user engagement on your website. This powerful ChatGPT plugin helps you stand out from your peers when it comes to SEO for web pages. Its intelligent capabilities enable businesses, marketers, and professionals alike to optimize websites for rankings in search engine results pages (SERPs).
With its artificial intelligence-driven features, SEO CORE AI Plugin for ChatGPT automates the process of analyzing websites by quickly understanding keywords and delivering recommendations and personalized solutions efficiently! As an added bonus, these insights help you stay ahead of algorithm updates or changes so you don't fall behind.
Update (6/28/2023): 100 Chat GPT Prompts to use with SEO CORE AI added.
Key Features of SEO CORE AI Plugin for ChatGPT
The SEO CORE AI Plugin for ChatGPT revolutionizes the way you optimize your website's content, making it more discoverable and engaging for users. This groundbreaking plugin utilizes cutting-edge technology to enhance various aspects of search engine optimization (SEO).
Key features include:
URL Analysis: The plugin can analyze specific URLs to evaluate their SEO elements, such as title tags, meta descriptions, headings (H1, H2, H3), and body content. It provides insights into how well these elements are optimized for search engines and offers recommendations for improvement.

Keyword Analysis: The plugin can analyze target keywords to assess their relevance and competitiveness in search engine results pages (SERPs). It provides information about websites that rank for the target keyword and offers insights into their SEO strategies.

Competitor Analysis: The plugin can compare the SEO performance of different websites, highlighting their strengths and weaknesses. This feature is useful for understanding the SEO strategies of competitors and identifying opportunities for improvement.

Content Optimization: The plugin can provide suggestions for optimizing website content to improve its visibility in search results. This includes recommendations for keyword usage, content structure, and other on-page SEO factors.

Live Web Access: The plugin offers web browsing capabilities with the added convenience of being able to access content on any page without having to load it separately.
By integrating this tool into your content creation process, you benefit from improved keyword targeting and assist in crafting compelling meta-descriptions that entice click-through rates on SERPs while maintaining relevancy within contextually rich snippets.
The result is an optimal balance between satisfying algorithmic preferences without sacrificing user experience or violating ethical guidelines regarding the overuse of target phrases. Moreover, utilizing the SEO CORE AI Plugin extends beyond just enhancing written material. It can assist in optimizing technical SEO by providing specific SEO analysis for a website.
How to Install the Plugin
To install the SEO CORE AI Plugin for ChatGPT, start by signing into your ChatGPT account. Upon successful login, navigate to the plugin marketplace or library within the platform. Search for "SEO CORE AI" using the search bar provided and click on it once you locate it in the list of available plugins.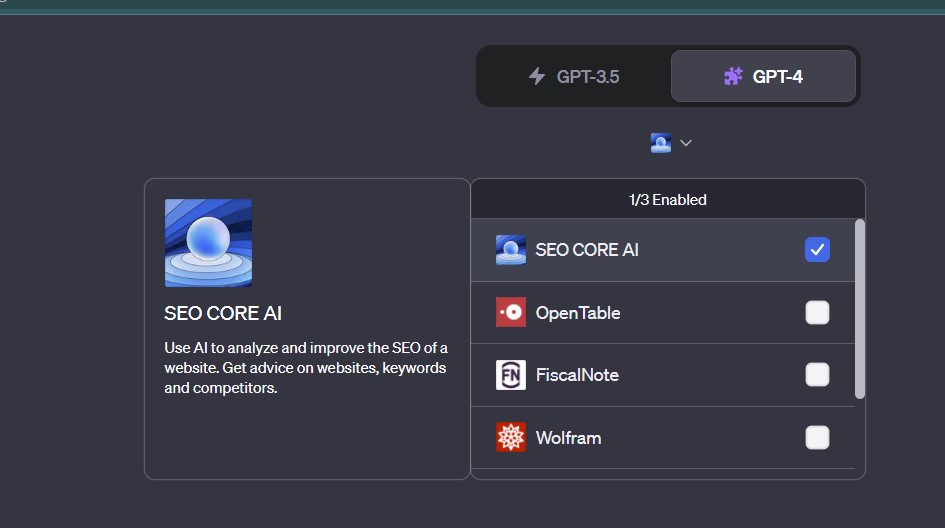 To proceed with installation, select the 'Install Now' button displayed under its description area. The system will now initiate an automated process that installs this powerful tool onto your dashboard without any hassle whatsoever! Once installed successfully, activate it from the 'My Plugins' section in order to not only enjoy enriching insights but also elevate overall efficiency at work while optimizing content creation!
How to Use SEO CORE AI?
Here's a general guide on how to use it:
Input the Website URL: The first step is to input the URL of the website you want to analyze. This could be your own website or a competitor's website.
Specify the Keyword: Next, specify the keyword or keywords you want to analyze. These should be words or phrases that are important to your business and that you want to rank for in search engine results.
Run the Analysis: Once you've input the URL and keyword(s), you can run the analysis. The tool will then analyze the website and provide a report.
Review the Report: The report will provide a variety of information, including the website's load speed, site and page authority, keyword usage, and more. It will also show how the website ranks for the specified keyword(s) and identify any issues that could be impacting its SEO.
Implement Suggestions: Based on the report, you can make changes to your website to improve its SEO. This could include things like improving load speed, increasing keyword usage, or building backlinks to increase site authority.
Monitor Progress: After making changes, you can use the tool to monitor progress and see how the changes are impacting your website's SEO and search engine rankings.
Remember, SEO is a long-term process and it can take time to see results. It's also an ongoing process, as search engine algorithms and best practices are constantly evolving. Therefore, it's important to regularly use the tool to analyze your website and make necessary adjustments.
Optimizing a Website
Optimizing a website is crucial for businesses to stay competitive and attract potential customers. The SEO CORE AI Plugin for ChatGPT presents an excellent opportunity to enhance your site's online presence without breaking the bank.
This handy plugin, powered by GPT-4 technology, analyzes existing web content and provides valuable recommendations that can help boost search engine rankings on popular platforms like Google or YouTube. For instance, imagine owning John's Plumbing and Heating, a business offering quality plumbing services in your area.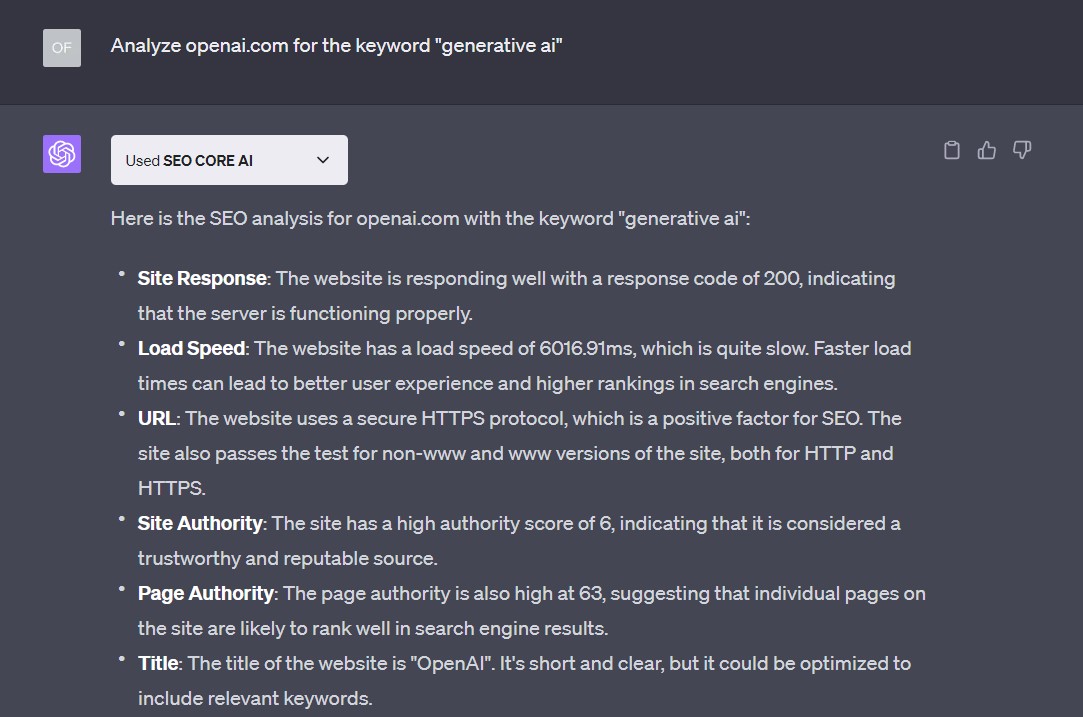 Exploring strategies for increasing client engagement through organic searches online can involve utilizing keywords relevant to local needs, such as "plumbing near me." To efficiently tackle this challenge while saving time and money, it is essential to use artificial intelligence assistance.
With just a few clicks within OpenAI's user-friendly interface, users gain instant access to cutting-edge optimization techniques tailored precisely according to their unique needs, all available at no extra cost!
Finding Keyword Competitors
The SEO CORE AI Plugin for ChatGPT revolutionizes the way you find keyword competitors. This advanced plugin helps you identify and analyze your competition's strengths and weaknesses, allowing you to develop a more effective strategy in less time.
By simply entering your target keywords into ChatGPT, SEO CORE AI will generate a comprehensive list of competing websites that rank well for those terms. Understanding who your true keyword competitors are serves as an essential aspect of crafting successful content guidelines. The reason being it allows you to evaluate their strategies, uncover untapped opportunities within specific niches or topics areas, ultimately leading towards stronger SERP rankings for yourself!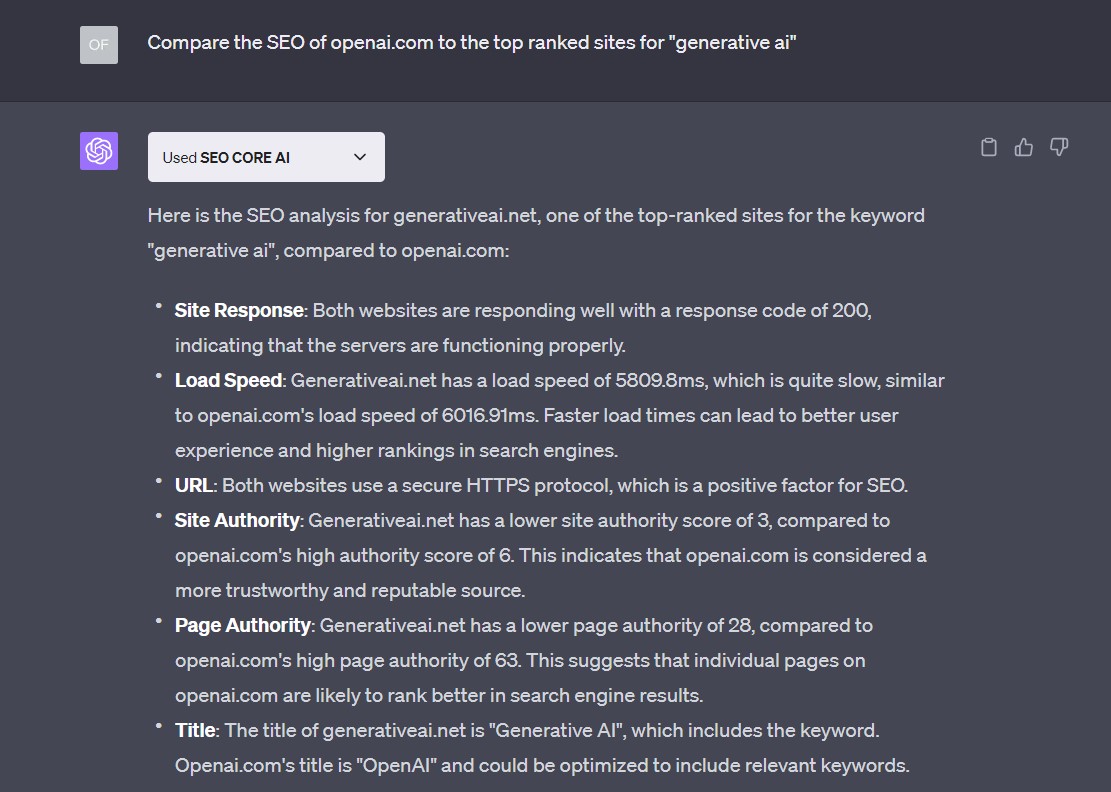 As this ChatGPT add-on makes use of existing data from SERPs, there's no need to worry about outdated information either. Everything is up to date on a real-time basis to ensure accurate results for every single query made through the plugin tool set readily available at your fingertips.
The Sky's the Limit!
With SEO CORE AI for ChatGPT, you can effectively manage your site's SEO in less time while saving yourself from costly errors associated with manual processes at every stage, truly making life easier!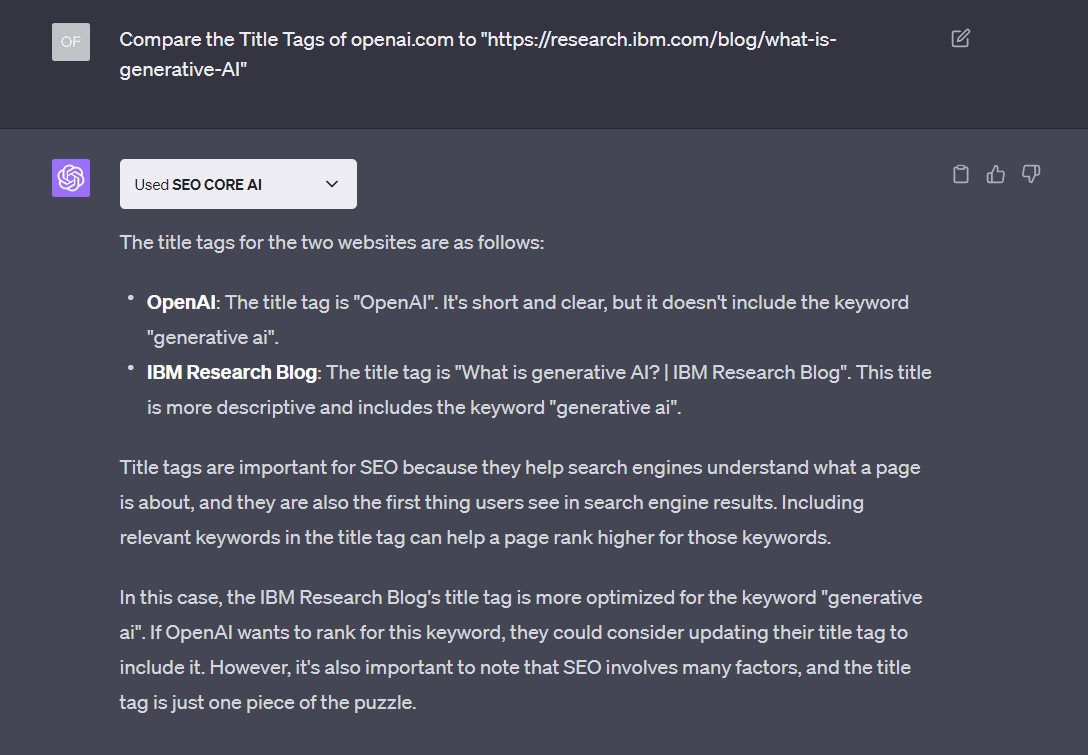 There's so many ways to use SEO CORE AI for ChatGPT. Let us know in the comments or in our Facebook Group how you use the SEO CORE AI for ChatGPT.