The demand for content is ever-growing as digital marketing and online exposure continue to increase. In the effort to have enough content, many businesses cut corners by implementing strategies that lack quality. This, in turn, damages the brand image and inhibits customer engagement.
There is often tension when businesses must decide if content writing should be handled in-house or if it should be outsourced. The latter can be a successful option, but the quality is often compromised.
If you are not sure whether you should outsource or not, here are some pros and cons to help you make your decision:
Pros and Cons of Outsourcing Content Creation
Outsourcing content creation can be beneficial for businesses. It can save you time and money while still providing high-quality content. But, like anything, there are also some downsides that you should be aware of.
Here are some pros and cons that you should consider:
Pros:
Cost Savings: Building an in-house team of content writers can be expensive. When you outsource SEO, you can get quality content without having to offer benefits or pay payroll taxes. You simply pay for the content you receive, making it highly cost-effective.
Variety: Outsourcing also gives you access to a larger pool of content creators. This means you can get a wider range of content, styles, and topics.
Focus: When you outsource content creation, you can focus on other business areas. This is especially helpful if you are short-staffed or do not have the time to create content yourself.
Cons:
Lack of Quality Control: One of the biggest downsides of outsourcing content creation is the lack of quality control. When you outsource, you cannot oversee the content creation process as closely as you could if you were doing it in-house. This can lead to lower quality content.
Loss of Personal Touch: Another downside of outsourcing is that it can lead to a loss of personal touch. Since you cannot control the tone or voice of the content, it may not reflect your brand in the way you want it to.
Now that you know some of the pros and cons of outsourcing content creation, you can decide if it is the right decision for your business. If you decide to outsource, there are a few things you can do to ensure that you get high-quality content.
How to Outsource Content Creation Without Compromising the Quality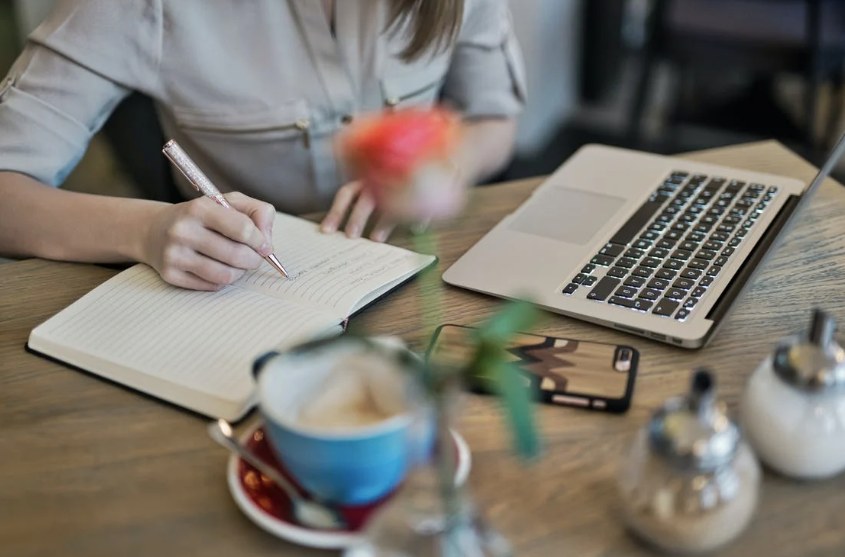 It may sound impossible, but it is possible to outsource content creation without compromising quality. All you need is a well-developed plan and the right team in place. Here are a few things you can do to make sure you get quality content:
1. Define Your Goals
This may sound redundant, but it is important to clearly understand your goals before you start outsourcing content creation. By clearly understanding what you want to achieve, you can better select the right team and plan for success.
Now by defining goals, we don't just mean saying that you want "high-quality content." You need to be specific about what that looks like for your business. For example, some questions you may want to consider include:
What topics do you want to be covered?
Who is your target audience?
How long do the articles need to be?
What type of content do you want to create (e.g., blog posts, infographics, etc.)?
How often do you want the content to be published?
Answering these questions will give you a better idea of the type of content you need and who will be responsible for creating it. Moreover, it will also help your content partner better understand your expectations.
2. Create a Budget
Now that you have identified your needs and defined the goals for your content, it's time to create a budget. Creating a budget is essential to the journey as it can help you determine how much content you can outsource and which partners you can afford.
Your budget should account for a number of company-specific elements. You can also check how much others are spending to get a better understating. According to the Content Marketing Institute, B2C companies allocate an average of 22 percent of their total marketing budget to content marketing. While B2B companies, on the other hand, allocate 26 percent. Moreover, nearly 40% of marketers expect their content budget to increase in the near future. So, it's best to be prepared.
You can use these estimates as a starting point, but remember that your content budget will vary depending on your specific needs and goals.
3. Develop a Style Guide for Your Brand
It is important to have a style guide that outlines the rules and guidelines for your brand's voice and tone. This will ensure that all of your content is consistent and reflective of your brand.
Some elements you may want to consider when developing your style guide include:
Grammar and punctuation rules
Banned words
Preferred words
Tone of voice
Formatting expectations
Company description
Competitive research
Boilerplate information
If you don't have a style guide, now is the time to develop one. If you already have a style guide, share it with your content partner before they start creating content. This will help them better understand your expectations and needs.
4. Ask for Writer's Portfolio
When outsourcing content creation, it's important that you only work with writers who have experience in your industry. You need to ensure that they are familiar with the topics you want to be covered and understand your target audience.
A writer's portfolio will give you a good understanding of their writing style, the type of content they are used to creating, and the industries they have written for in the past. This information will help you determine if they are a good fit for your company.
While reviewing a writer's portfolio, make sure to look for the following:
Samples of their previous work
Writing style
Industry experience
If you like what you see, then it's likely that they will be a good fit for your company.
5. Ask Writers to Pitch Their Ideas
When you have found a few writers you think would be a good fit for your company, you should ask them to pitch their ideas before making a final decision. This will give you a better understanding of the topic they want to write about and how they would approach it.
Some elements you may want to consider when reviewing a writer's pitch include:
The angle they want to take
The type of content they want to create
How they would structure the piece
What sources would they use
This will help you evaluate if the writer is on the same page as you regarding expectations and needs. It will also help to avoid unnecessary revisions down the road.
6. Hire an In-House Quality Assurance Specialist
One way to ensure quality control is to hire a quality assurance specialist. Their job is to review the content before it is published to make sure that it meets the standards set by your company. This will help to catch any errors or issues before they are made public.
It may sound like an unnecessary expense, but quality assurance specialists can save you a lot of time and money in the long run. They can help to avoid embarrassing mistakes and ensure that your content is of the highest quality.
Why Partner With SEO Vendor
Outsourcing content creation can be a great way to save time and money. However, it's important that you take the necessary steps to ensure quality control. By following these tips, you can be sure that your content is up to your standards and reflects your brand positively.
At SEO Vendor, we understand the importance of quality content. That's why we only work with experienced writers familiar with your industry. We also provide a detailed style guide to ensure that all of your content is consistent and reflective of your brand.
In addition, we have a team of quality assurance specialists who review all of our content before it is published. This helps catch any errors or issues so they can be fixed before the content goes live.
If you're looking for a content partner that you can trust, look no further than SEO Vendor. Contact us today to learn more about our services and how we can help you grow your business.