Data science is a trending topic among modern marketers. And for a good reason – data-driven decisions are superior to their non-data-driven counterparts. The application of data science can augment various areas of digital marketing, including search engine optimization (SEO), and make these processes more effective and less time-consuming.
Unlike the old times when SEO was more about making assumptions and trying different techniques to see what works, modern SEO has access to a lot of data. This data can be used to improve various aspects of the SEO process, from keyword research to content optimization. This is where data science comes in.
But what exactly is data science, and how can it be used to improve SEO?
How Can Data Science Boost Your SEO?
Data science is a branch of computer science that involves extracting insights from large data sets through various algorithms and statistical methods. In recent years, data science has become increasingly popular as more and more businesses are starting to realize the importance of data-driven decision-making.
It can help extract meaningful information from big data by deploying modern tools, technologies, and practices. When it comes to SEO, data science can help you make data-driven decisions that can improve your SEO campaign in several ways.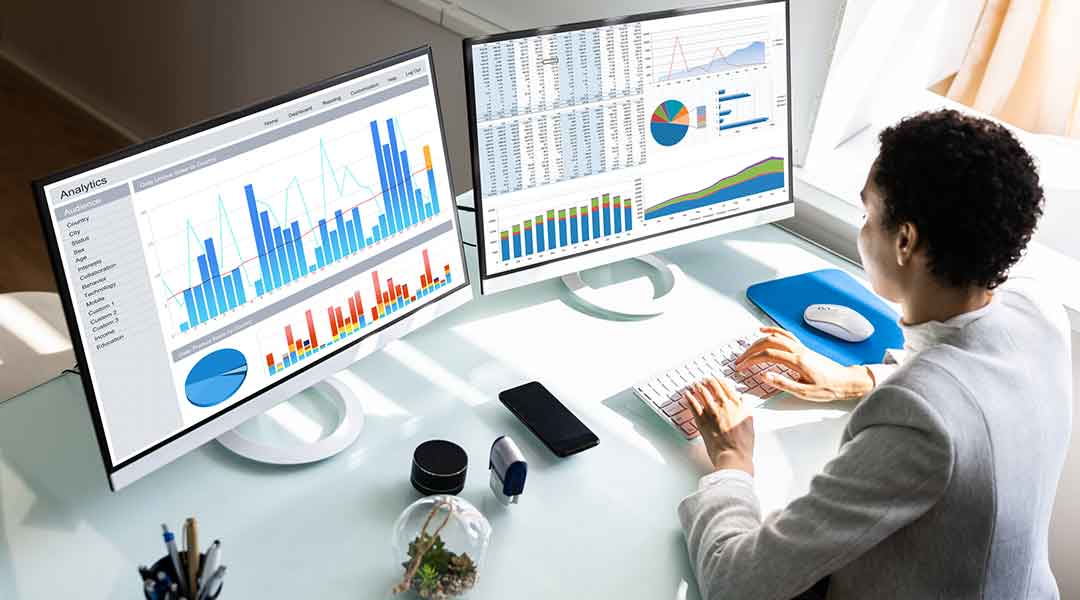 Here are 6 ways data science can help you implement data-driven SEO strategies and take your SEO campaign to the next level:
1. Analyze Target Audience's Data (Customer Behavior Analysis)
Analyzing customer behavior is crucial for understanding what your target audience is looking for and how they search for it. It enables you to build highly targeted buyer personas that you can use to improve your SEO strategy. Customer behavior analysis provides you with critical customer demographic data that can help guide your SEO strategy and your entire marketing campaign.
The search engine landscape is no longer about a one-size-fits-all approach. The strategies that worked a few years ago may not work now. It is impossible to rank higher in SERP just by stuffing a bunch of keywords or creating keyword-heavy metadata. Google's recent updates have made its search engine smarter. They now weigh the experience your website offers to users. It now gives priority to factors like the time users spend on your website, the number of pages they visit, and whether or not they find your website helpful. Google's commitment to providing user-friendly results has made it impossible for marketers to game the system. The only way to win at SEO now is to provide a great user experience. That's why you need to take the time to take a closer look at your customer behavior and understand their intent when they search for a particular keyword.
In addition, you also need to make sure that you have a content strategy in place that provides users with answers to their questions. This requires an intuitive and proactive approach to problem-solving. This is where customer behavior analysis comes in. It can help you understand the changing trends and preferences of your target audience so you can adjust your SEO strategy accordingly. Data science can help you collect and analyze customer behavior data, so you can make decisions that improve your SEO campaign. It also can help you automate the process of customer behavior analysis so you can focus on other aspects of your business.
2. Optimizing Website User Experience
User experience (UX) is now a ranking factor for SEO. Google has already stated that they are "committed to helping make the web more useful for all." They want to make sure that their users can find the information they are looking for easily and quickly. To do this, they have started to consider the experience your website offers to users when they are determining rankings. This means that if your website provides a poor user experience, it is likely that you will see a drop in your rankings.
By understanding how your target audience searches and their intent when searching for a particular keyword, you can ensure that your website provides the information, they are looking for. But that's not the only way to improve your website's UX. You also need to make sure that your website is easy to navigate and that the information on your website is organized in a way that makes sense.
In addition to usability, website performance is a major factor affecting UX. If your website takes too long to load, users are likely to click away before they even have a chance to see what you offer. Google also takes website performance into account when they are determining rankings. These variables are all taken into consideration when they are measuring UX.
To improve your website user experience, you will need to take a data-driven design approach. And data science is the perfect tool to help you with that. Data science can help you better understand your target audience and ensure that your website is easy for them to use. It can also help you collect and analyze data to identify areas where your website needs improvement.
3. Data-Driven Competitor Analysis
In order to stay ahead of your competition, you need to have a good understanding of what they are doing. This way, you can adjust your own SEO strategy accordingly.
An effective SEO competitor can give you an idea of what your competition is up to and help you understand its strengths and weaknesses. This can help you get an edge over them. In addition, a competitor analysis can also help you discover new opportunities and keywords that you can target.
Data science can help you gather and analyze big data to get insights into your competitor's SEO strategy. You can also use tools like SEMrush and Ahrefs to collect data about your competitor's campaigns. With this information, you can develop an effective SEO strategy that will help you take your business to the next level.
4. Track And Optimize User Behavior Metrics
Now there is no direct correlation between user behavior and SEO. However, if you have a website that people love to use, they will likely spend more time on it. And the longer they stay on your website, the better it is for your SEO.
Google may rely on different metrics to determine how useful a website is. These include CTR, Dwell Time, Bounce Rate, Time On Site, Pages Per Visit, Repeat Visits, etc. All of these metrics can be tracked and analyzed using data science. By understanding how your target audience interacts with your website, you can identify areas where you need to improve your UX. This will ultimately lead to better rankings in search engines.
5. Data-Driven Content Marketing
SEO and content marketing go hand-in-hand. Google's constant updates make it clear that they want to see high-quality, relevant, and informative content on websites. To rank well in Google, you need to make sure that your website has a steady stream of fresh, original content.
But it's not enough to just create content. You also need to make sure that your content is being seen and liked by the right people. Search engines take conversions and user engagement into account when they are determining rankings. That's why you don't just need any content strategy; you need a data-driven content strategy.
You can use data science to understand your target audience better and determine what kind of content they are looking for. You can also use data to track the performance of your content and identify areas where you need to improve. By using data to drive your content strategy, you can make sure that your website always has the fresh, relevant, and engaging content that Google wants to see.
6. Data-Driven Link-Building Strategy
Link building is an integral part of SEO. The number and quality of links pointing to your website are one of Google's most important ranking factors. In order to rank well, you need to make sure that your website has high-quality links from authoritative websites.
But link building is not an easy task. Finding websites willing to link to your website requires a lot of time and effort. And even when you do find such websites, there is no guarantee that they will actually link to you.
Data can help you increase the efficiency of your link-building campaign. Many tools like BuzzSumo and Moz provide data that can be used to find high-quality backlinking opportunities. This data can help you save a lot of time and effort and also get better results.
This data-driven link-building approach can help you make the most of your link-building efforts and boost your SEO results.
These are just a few ways in which data science can help you improve your SEO. Implementing a data-driven SEO strategy will help you stay ahead of the competition and make the most of your SEO efforts.
Data science is changing the way businesses do SEO. And that's the reason why white-label SEO services providers, which are said to be pioneers in tech-driven SEO, are now using data science to deliver better results for their clients. To stay ahead of the competition, you need to use data science to boost your SEO. Otherwise, you will be left behind.