AuditMyPc's website may look sparse and basic on the outside but it is essentially a site that offers a set of FREE tools for the benefit of auditing your PC. As the blurb on the site succinctly indicates, AuditMyPc provides a firewall test, web tools like the digital footprint and an internet security tool all of which are free to use.
USP & KEY FEATURES
AuditMyPC offers the following tools on its website:

Firewall Test: A firewall serves to shield your PC from threats that are part and parcel of exposure to cyberspace. AuditMyPC's Firewall test checks to see that your firewall has been configured correctly to prevent vulnerability to cyber threats such as hackers, viruses, worms, and other malware.
Digital Footprint: A digital footprint is essentially how much information you are leaving behind on cyberspace as a result of your online activities. AuditMyPc's Digital Footprint tool displays your digital footprint enabling you to identify how much of your personal information is really private or protected.
Internet Speed Test: The free Internet Speed Test is one of AuditMyPc's best tools. The Speed Test is simple enough for a non-technical person to use, is accurate and provides results that are easy to understand and interpret. It is an easy way to also find out whether your Internet services provider is really providing you the speed that you paid for.
Antispam: AuditMyPc claims that its' Antispam tool is an extremely effective way to fight spammers by hitting them "where it hurts most".
Sitemap Generator: The Sitemap generator tool allows you to generate XML Sitemaps for Yahoo, Microsoft, and Google Sitemaps. It helps you check your site for errors, discover load times and gives an external perspective of your site in the sense of what bots see from their perspective.
Free Website Monitoring: AuditMyPC's free website monitoring tool enables you to identify whether your ISP is having problems, whether your pages are changing or whether unauthorized ports have been opened on your firewall.
What's My IP: Quite simply, What's My IP enables you to quickly identify your IP Address.
PRICING PLAN – N/A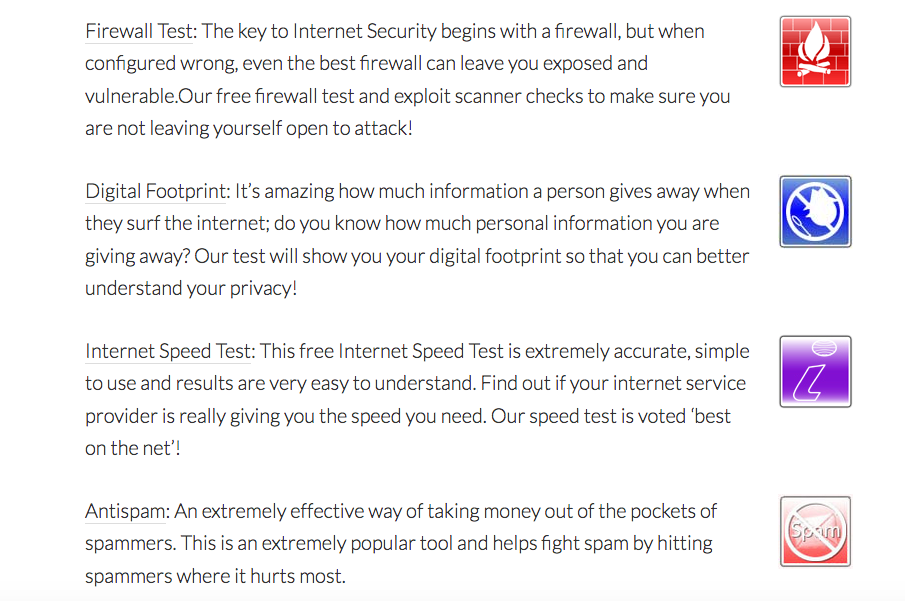 All tools provided on the AuditMyPc website are free for use.
PROS AND CONS
AuditMyPC works well for basic testing purposes with its simplicity and overall user-friendliness. The fact that the applications are FREE is also a super PLUS.
Unfortunately, AuditMyPC's tools run only on Flash and this can be problematic if your browser doesn't support this. There doesn't seem to be an easy methodology in place to download or share results. You can also only do your testing for the one server or location which is a definite con given the preponderance of sites that can offer you multiserver/location testing features.
AuditMyPC's tools are fairly older products with limitations, and there are definitely more comprehensive products currently available in the market.