SEOprofiler is a cloud-based internet software tool that helps business owners obtain higher rankings on search engines like Google or Bing. It is currently the main product offering from Axandra GmbH, a German company that's been in business since 1997 developing marketing solutions for the internet.
USP & KEY FEATURES
SEOprofiler primarily focuses on the latest SEO functions that are required to obtain high rankings based on Google's current algorithms. The SEOprofiler offers: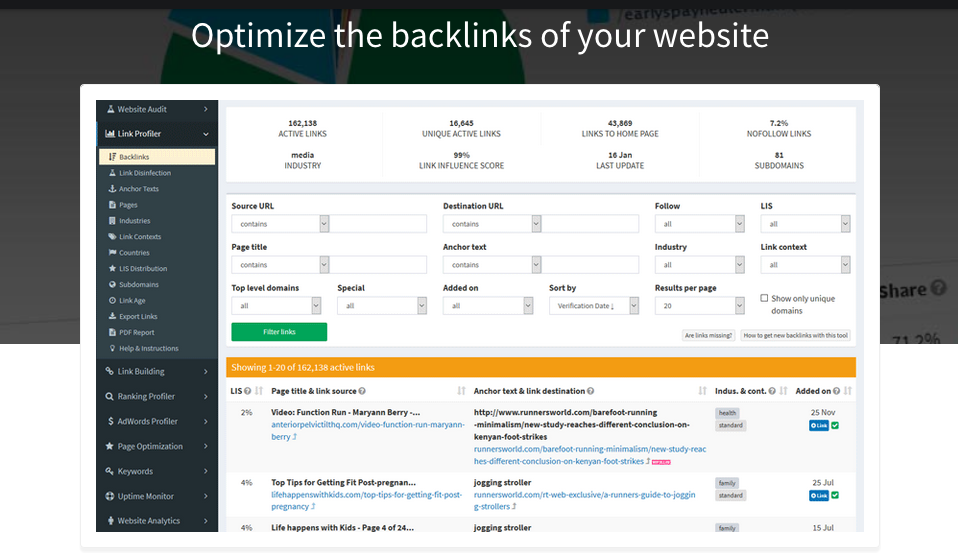 Link building, analysis, and management: High-end backlink building tools, tools for backlink optimization, competitive backlink intelligence as well as a unique backlink database
Web page optimization: Website optimization that can be relied upon to deliver results in terms of getting high rankings for your keywords.
Rank checking: The Ranking Monitor identifies the ranking position of your site on Google, Yahoo, and Bing for any keyword in several different countries.
Website audit: Effortlessly find and correct all errors on web pages to ensure that search engines are indexing your pages correctly.
Keyword research, analysis, and management: Competitive keyword intelligence, keyword difficulty tool, 11 keyword optimization tools, tutorials, unique KeywordIndex™ keyword database
Results checking, analysis and research: Monitoring of social networks, competitive ranking intelligence, social media checker and the unique competitive Google ranking database.
Google AdWords research and optimization: Competitive Google AdWords intelligence tools, Google AdWords tutorials, unique competitive AdWords database.
Powerful reporting: SEOprofiler enables you to create reports that you can give to your clients and your team.
Full access to Google Q&A, and more.
SEOProfiler goes through a process of continuous improvement so that is up-to-date with the latest search engine ranking algorithms.
PRICING PLANS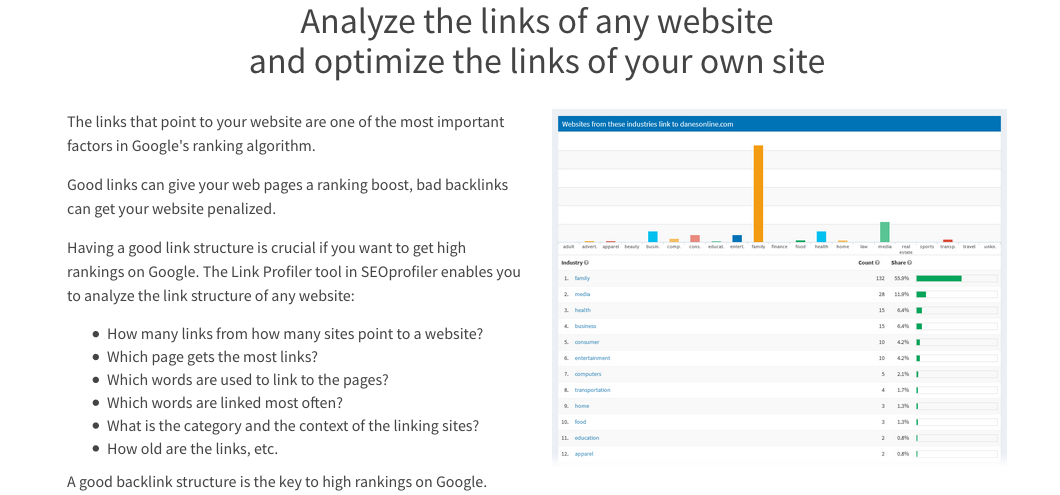 SEOprofiler currently offers 4 different subscription payment plans starting at $69.95 per month (Standard Plan) for a single user, $99.95 per month (Smart Plan) for up to 5 users, $249.95 per month (Professional Plan) for up to 15 users and finally, an Enterprise Plan at $999.95 for an unlimited number of users. The most popular Smart plan offers a daily ranking check of 1000 keywords, audits of 50,000 pages, up to 50 projects, white-label reports as well as the link disinfection tool. Quarterly and Yearly Payments plans are available. Plans can be changed at any time and SEOprofiler offers a 30-day money back guarantee.
PROS & CONS
SEOprofiler is exhaustive and chock full of features. The tool also uses only the optimization methodologies that have been approved by search engines and is continuously updated to ensure it is on track with the latest changes in search engine algorithms. SEOprofiler also offers a comparison on their site to more easily help you understand how its various features stack up against the tool or tools you currently use. All in all, SEOprofiler does a good job of providing in-depth analysis for higher rankings at a fairly competitive price.