When you put in all your efforts, sweat and blood in building a dream business, marketing it to the right people at the right time are vital to your sustenance and growth. That is something you have already planned for but an even more important step after that is to know what's working and what's not to keep refining your approach.
No matter the business you are in, your website is your number one salesman. A website's functionality and appeal can make or break your very first impression. Consider your website as a glorified visiting card. With the uncountable aspects that make up a great website, SEO, link building and redirects are of utmost importance. For taking care of these critical aspects, Internet Marketing Ninjas provide some amazing services that can have a positive impact on your online presence while helping you to better your game regularly in order to keep more people coming in to check you out.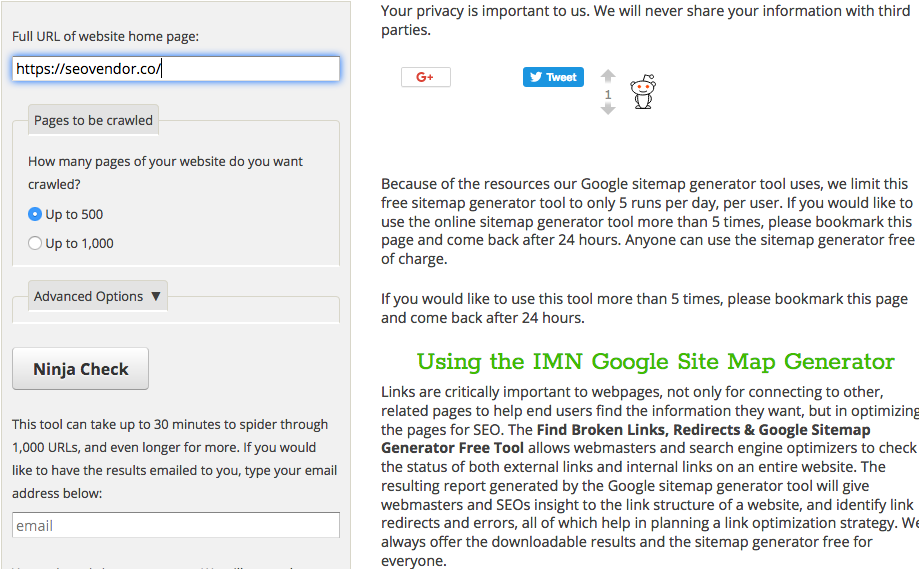 Let's dive a little deeper and see what internetmarketingninjas.com has to offer and how it could help your business website in a big way:
First things first, the 'find broken links, redirects and site crawl tool by internetmarketingninjas.com are absolutely free. This comes as a big relief since without spending a penny you can generate a Google sitemap along with keeping a tab on redirects and broken links.
'Free' is definitely not a buy-bait here for you to purchase a subscription because this free tool is actually free and crawls up to a whopping 10,000 pages. Moreover, it can perform a maximum of 5 runs per user every day!
You can export all the data to Excel/CSV. You have it at your disposal at any time you may need it. There is no fee for obtaining the reports on your email which is another amazing feature of this free tool.
The tool is easy to use and in case you wish to go for big crawls, you can enter your email to receive the results as it does take a slightly longer time to be done.
The reports are segregated for ease of understanding. You will find separate tables for external links, internal redirects, internal pages crawled and so on.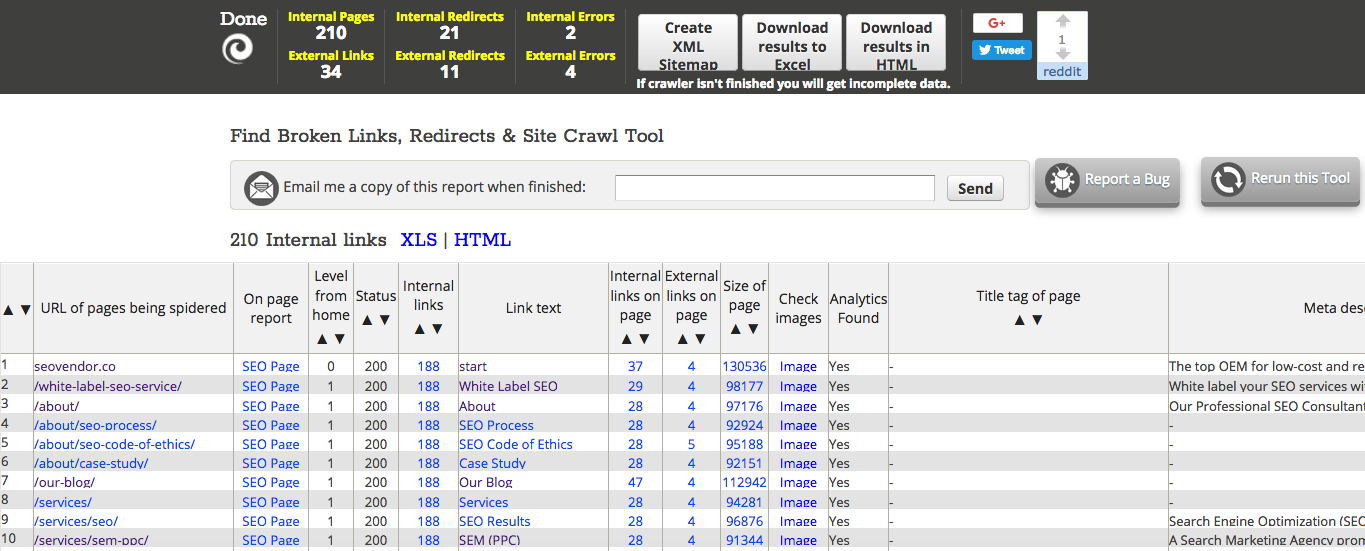 With so many exceptional qualities in one tool and considering the fact that everything is coming to you for free, it is hard to point out any cons. Considering the fact that you get access to a plethora of important information, this tool comes in handy not only when you wish to enhance your own website but also if you want to keep a check on your competitors or on any other site that you follow. When a tool is easy to use, free and most importantly gives you way more information than any other free tool would, there is no reason to give it a miss. Internetmarketingninjas.com's 'find broken links, redirects and site crawl tool deliver as promised; rather, a lot more than that.