Serpstat is one of the most popular and comprehensive all-in-one SEO platforms available on the market today. The cloud-based platform initially started life as an in-house program for Netpeak's Digital Marketing Agency but has since grown to become a very widely used independent competitor research product. Serpstat's website reports statistics of 95,000 current active users with 5 million queries executed every single month.
USP and Key Features

Serpstat offers you the benefit of boosting your online presence by tapping into the SEO strategies used by your biggest, top-ranking competitors.
Some of the main features on offer include:
Exhaustive Keyword Research options
Search Analytics to identify your competitors' strengths and weaknesses
Advertising Analytics to research your competitors' marketing spend
Content Marketing Ideation for development of unique niche friendly and popular content
Web page Ranking Information
Market Intelligence, global as well as niche specific
On Page Audit for in-depth web page analysis
Reports and Infographics
Developer friendly API
Detailed Backlink Analysis
Pricing Structure
One of the most attractive features of Serpstat is its' sliding scale pricing structure. Unlike other comparable SEO platforms, where the Free plans are restrictive and don't really offer much that is of any real value. Serpstat's Free limited plan delivers quite the punch within its maximum permitted daily limit of 30 queries. You can try pretty much everything for free. Free plans are available for guest and registered users.
Serpstat offers flexible personal as well as business plans for enterprise solutions. Personal plans start at a very affordable $19 per month, followed by plans for $69, $149 and $299 per month for advanced features. Annual subscription options are available.
Paid users also have an additional incentive for signing up in the form of discounted digital marketing software from Serpstat's Partners including Ringostat, Reply, pr.co, Grasshopper, domains-index, Cyfe and SocialBlade among others.
PROS and CONS
With its affordable pricing structures and detailed competitor analysis, Serpstat is a very strong contender when compared to other top rated tools in the market such as SEMRush and Ahrefs.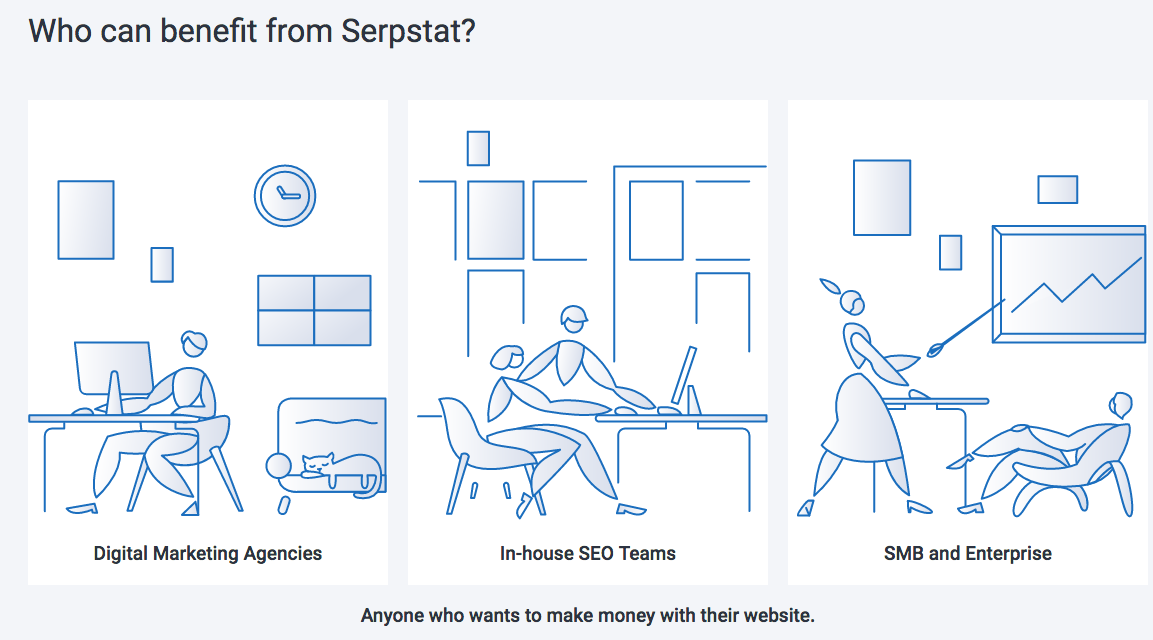 Newbies or blogging enthusiasts will find Serpstat's intuitive and easy-to-navigate interface especially useful. As with all new tools, there is a learning curve and some getting used to. Once you get over the initial bumps, it is smooth sailing from then on.
Serpstat still has some scope for improvement when it comes to satisfying the needs of experienced marketers. But given that its' fairly a new product and is continuously expanding, we can expect it to continue to improve and get better. Serpstat's most robust and noteworthy features are its Keyword Research, Competitor Research, Backlink Analysis and Site Audit tools.
Customer Support has been rated consistently high by users given the integration of online chat support where you will get a response, literally, within minutes. There is no phone support, however, the large resource of educational material available on the site, together with the chatbot, means things don't have to be unnecessarily difficult.