Screaming Frog, a UK-based marketing agency, released the SEO Spider in 2011 as a sophisticated web crawler designed to be used by experienced SEO marketers for SEO analysis. Fast forward to 2018 and the SEO Spider continues to be one of the top tools in the market today for SEO Technical Audits.
USP and Key Features

SEO Spider is a website crawler that allows you to crawl websites' URLs and fetch key onsite elements to analyze onsite SEO. It basically, "spiders" links, images, CSS, scripts, and apps on websites like a search engine for the purpose of onsite SEO evaluation.
SEO Spider has a good range of options to make use of, however, some features really stand out:
The auditing redirects enable you to seamlessly integrate migration with relative ease. For instance, SEO Spider enables you to upload your old URLs list, crawl them, and follow any redirect chains, until the final target URL is reached; and generate the data onto a single report for viewing.
The Crawl Path report enables you to identify exactly how the SEO Spider discovered a URL or how to view the "in links" to a specific URL
The SERP snippet emulator enables you to edit page titles and meta-descriptions directly in the SEO Spider and these changes are saved automatically but you can continue to edit them until you're ready to export.
Pricing Plans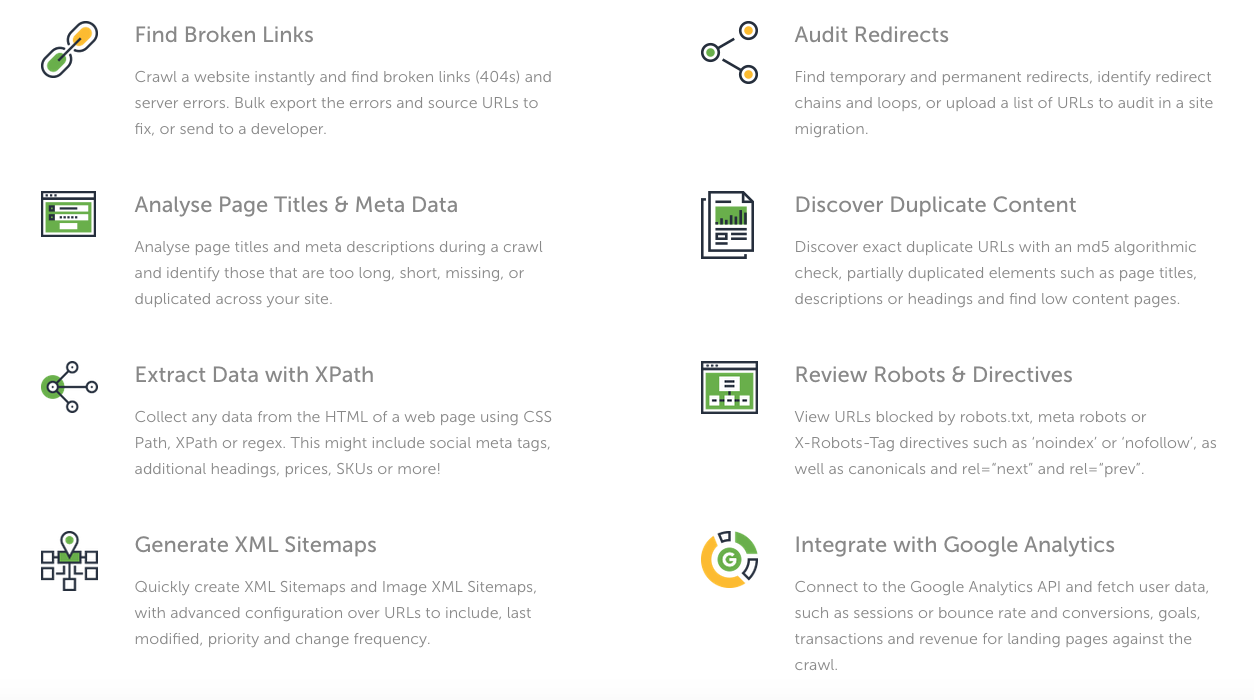 SEO Spider comes in two versions, one free and the other, a renewable paid a license for GBP 149 yearly. The free version enables you to crawl up to a limit of 500 URLs and offers:
Locating links, redirects, and errors
Analysis of page titles and metadata
Reviews of meta robots and directives
Audit of href lang attributes
Finding duplicate pages
Generating XML sitemaps
The paid version offers all of the above with no crawl limit and additional features including:
Crawl configurations save, and re-uploads
Custom extraction
Custom source code search
Google analytics
Search console integration
Link Metrics Integration
Rendering ( Java Scrip)
Custom robots.txt
Store and view raw and rendered HTML
Free technical support
PROS AND CONS
The SEO Spider is fast and powerful with options that are exhaustive. There isn't much that this application cannot do.
Extensive FAQs and a User Guide for SEO Spider are available for general troubleshooting on the Screaming Frog website. Technical online support is also available for paid users.
In terms of cons, for everything that SEO Spider offers, the drawbacks are less to none. It certainly doesn't have the most user-friendly or intuitive interface so there is a steep learning curve for newbies. And, in what can be bummer for some users, the paid license needs to be renewed yearly. The SEO Spider is also currently available for download as a desktop version only on PC, Mac, and Linux.
SEO Spider rates highly on both performance and delivery, and is, therefore, an exceptionally useful tool for advanced marketers.