Are you a creator or marketer seeking better ways to produce eye-catching content? Look no further than top AI video generators. Creating high-quality videos is no longer a laborious process; it's become easy work that doesn't require expertise in filming or editing.
Introduction to AI Video Generators
As you navigate the world of AI video generators, remember they hold unmatched potential for content creation. Imagine providing just a script to guide your video material so that it's transformed into engaging visual storytelling suitable for social media or websites within minutes.
For example, Pictory can convert blog posts into interesting videos, subtitles, and summaries. Synthesia also stands out for its capability of creating custom AI avatars in multiple languages and different accents and voices.
You get professional voiceovers merely by typing out text! When brands like Google use these tools effectively, why shouldn't you?
Benefits of Using AI Generators for Creators and Marketers
AI generators are a game-changer for creators and marketers alike. With the tech's ability to streamline complex tasks, you can save significant time in your workflow. Not only that, but customization options enhance brand coherence like never before!
Imagine tailoring backgrounds and audio elements of your video content with minimal effort; it's now possible. Generators provide natural-sounding AI avatars, too, bringing an organic feel to digital workspaces while fostering collaboration effortlessly by allowing internal link sharing among team members. Once satisfied with draft videos, embedding or moving onto another platform becomes as quick as a flash!
The benefits surely don't stop here; these applications offer ample provisions for language diversity, making them adaptable across global markets.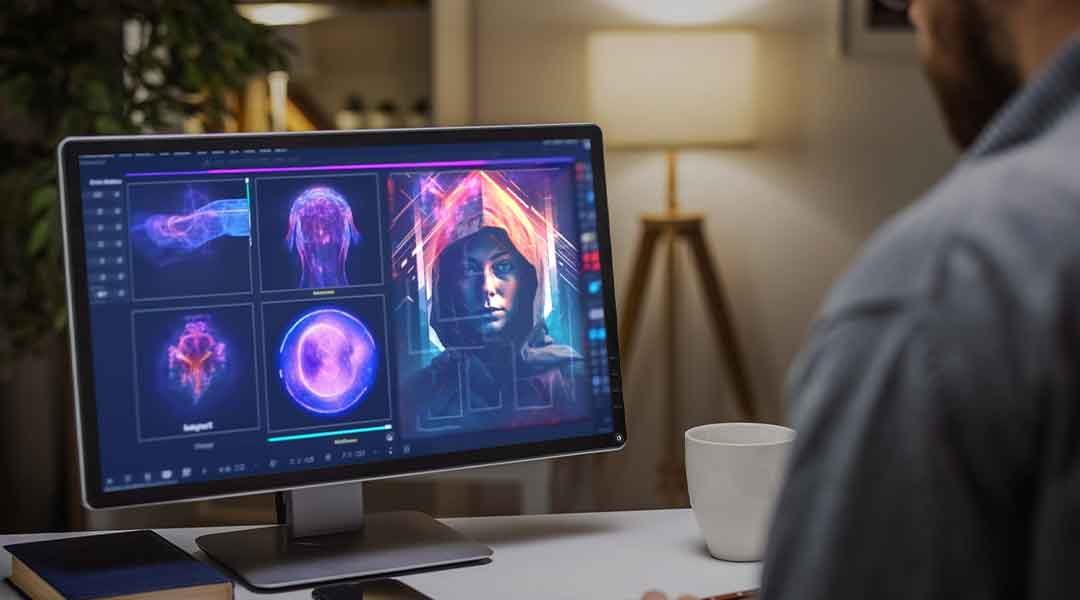 Top-Rated AI Video Generators
Synthesia
Synthesia, a superior AI video creation platform, stands out. It can fabricate videos in over 120 languages with different voice tones and accents. An attractive feature is their custom AI avatars for brand representation or choosing from more than 150 available stock. The text-to-speech utility translates your typed content into professional voiceovers effortlessly.
There's even scope to lend a personalized touch by combining it with your own tone of speech! Major brands, like Nike and Google, vouch for its efficacy through regular usage in their projects.
HeyGen
HeyGen stands out among the available AI video generators. As a powerful tool, this software leverages artificial intelligence to transform simple text into stunning visuals in seconds. You input your script or content, and then HeyGen gets down to the business of animation creation.
The interface feels intuitive and user-friendly, allowing easy control over customization options, from adjusting scene transitions to tweaking character actions. HeyGen has got it covered! With an extensive library of templates, finding the perfect imagery for your message is straightforward. Plus, with regard to cost-effectiveness? A big check mark there!
Affordable plans make high-quality videos accessible to all creators, no matter their budget size.
DeepBrain AI
DeepBrain AI stands out among video creation tools. You can rapidly generate videos by simply providing a script. It then turns your text into a professional-sounding voiceover in less than five minutes. This makes it easy and convenient to create high-quality videos quickly.
Once done with that step, choose from an array of languages and corresponding AI models offered on this tool for customization purposes before completing the editing tasks at hand.
Pictory
As a creator or marketer, you'll find Pictory immensely helpful. This AI video generator transforms your script or article into engaging visual content, perfect for social media engagement strategies. With swift editing through text manipulation capabilities, the creation process is fluid and efficient. Highlight reels are another notable feature; they're perfect as trailers on platforms such as Instagram Reels.
Furthermore, automatic captioning ensures audience accessibility even when sound isn't feasible to use. Plus, with summarization features included, viewers get quick insights about your videos promptly post-release. Pricing starts at an affordable $19 per month, making this tool quite budget-friendly while offering great value in terms of video marketing solutions!
InVideo
You've checked out several AI video generators. Now, let's shift our focus to InVideo. This tool offers a wide selection of templates to make your content look amazing. They can help you bring life and pizzazz to your videos with no editing knowledge required. All you need to do is choose one template, and you'll be well on your way to creating an eye-catching video.
With InVideo's versatile features, such as text-to-video conversion and pre-designed graphics, it caters perfectly to seasoned marketers looking for quick turnarounds in their projects without compromising quality.
Don't worry about investing too much time learning this tool. It presents an intuitive interface, which makes adoption easier than rolling off a log. Furthermore, InVideo also offers multilingual support. This allows you to communicate seamlessly with audiences from around the globe.
VEED.io
Focusing on VEED.io, you'll find it user-friendly and accessible. A key strength lies in its speed of video creation; editing features like adding subtitles or trimming clips are swift.
Creating videos using this platform has some great features that can be utilized. One of them is the option for screen recording, which can be very handy for capturing instructional materials. It adds an extra layer of versatility to the video by allowing you to add interactive elements such as drawing lines or text annotations, making communication within your content much clearer and more effective.
You also don't have to worry about file compatibility issues since VEED.io supports various formats, such as MP4s, MOVs, or AVIs, ensuring an easy integration process across platforms post-editing! Pricing starts at $12 per month, making it convenient both economically and functionally for creators and marketers alike looking for an AI-based system that delivers solid results time after time.
WaveVideo
Pivoting to WaveVideo, this platform streamlines your video creation process. Submit an article or script as a starting point for the content. With several editing tools available at just under $20 per month, you get more than what you pay for.
Its auto-captioning feature makes it stand out, which takes away manual work from your end—not forgetting the option of creating short-form videos apt for social media platforms like Instagram Reels. Moreover, any language changes can be easily made in Synthesia's functionality; 120 languages are supported! A custom AI avatar further enhances brand representation and appeal on various channels.
Final Considerations
You need to consider your unique needs before choosing an AI video generator. Reflect on the specifics of your script or article guiding your content creation process. Consider Pictory, for instance, if you're looking at easily created shareable videos based on text input. Or perhaps Synthesia suits better with its multilingual capability and custom avatar options tailored for brand representation.
Feel like personalizing more? HeyGen's face swap feature could be exactly what you want! If rapidity in generating videos is key for you, Deepbrain AI provides a quick turnaround. Always remember individual features matter, but so does cost efficiency.
Compare monthly fees against what value they add to make a well-considered choice. Embracing AI video generators can transform your marketing efforts. They simplify content creation and save time and resources. Platforms like Vid.ai or Lumen5 offer user-friendly tools for quickly producing quality videos.
With customization options, they cater to diverse needs effectively. Choose wisely to significantly elevate your brand's digital presence.