All-in-one solution for your digital agency. Access the power of SEO Vendor's CORE AI to provide the best marketing technology, solutions and support for your clients.
SEO Vendor's Agency Platform
Get access to our powerful Patent-Pending CORE AI technology with an agency account. It provides you with everything that you need, from setting up necessary resources to generating delivery reports, and all this is available in just one place.
Dashboards: Access all settings and reports for your SEO and PPC campaigns in one single place.
Marketing Engine: Simplify all the processes required for lead generation. Find and manage sites more efficiently to acquire niche leads for your business.
Lead Engine: Track all your leads for free. Use our lead tracking tool developed by sales veterans.
Exclusive Leads (Store): Get premium quality exclusive SEO/Web Development leads in no time.
Preliminary Audit: Assess a website, get analysis and download a branded PDF report to send to potential clients.
Sales Resources: Use our comprehensive knowledge library of sales resources to help you close a deal much faster like a pro.
What Makes SEO Vendor's Agency Platform So Special?
Agency Dashboard
SEO Focus Control: Introducing an innovative SEO feature that gives you absolute control over your SEO strategy. You can use this feature to set the overall aggressiveness of your SEO strategy to Max, Balanced and Minimum. You can also set up 5 keyword categories and control their focus level independently.


Note: A more aggressive approach might get you faster results, but maybe a risker strategy. Get in touch with our team to know more.
SEO Dashboard: Track your website performance on Google, Yahoo, and Bing. You can track various SEO parameters like estimated and potential ranking values, earned rankings, ranking positions, ranking sources, and individual keyword rankings. You'll also get an SEO Focus Control feature to set the aggressiveness of your SEO strategy.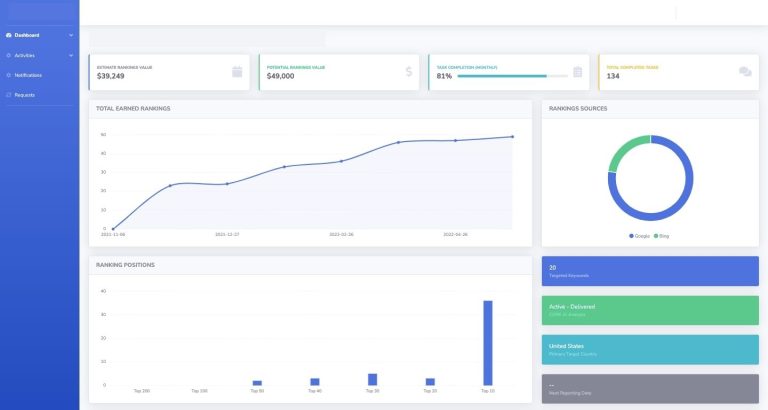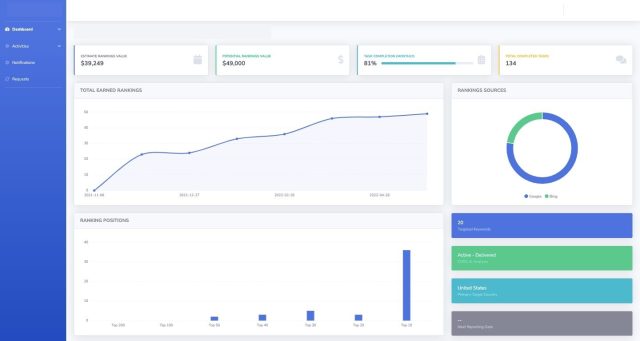 PPC Dashboard: It allows our partner agencies to track performance metrics like clicks and impressions, ad spends and ad data. All this means agencies can clearly communicate the value of all their hard work to their clients. The PPC dashboard is available for various advertising platforms including Google, Bing, Facebook, LinkedIn, Twitter, Spotify and more.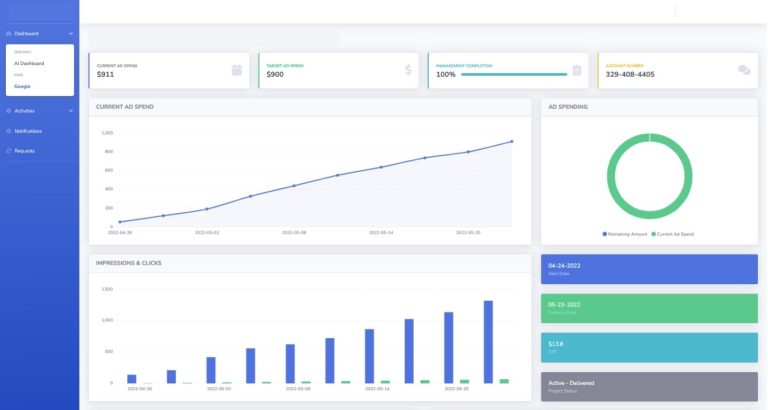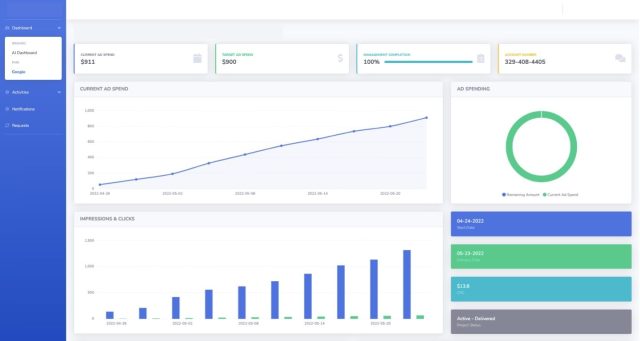 SEO Activities: Keeping a tab on all ongoing tasks under your SEO or PPC campaigns got easier. With this new feature, you can monitor the progress of each task that our CORE team is executing for your projects. It shows you the current status of each task so that you never miss on delivery of any task.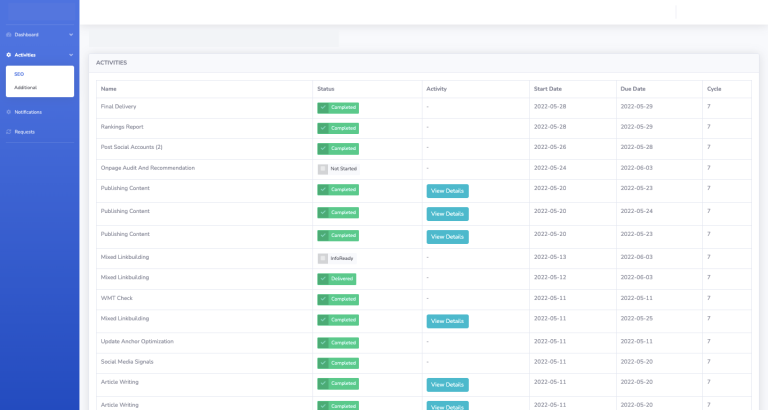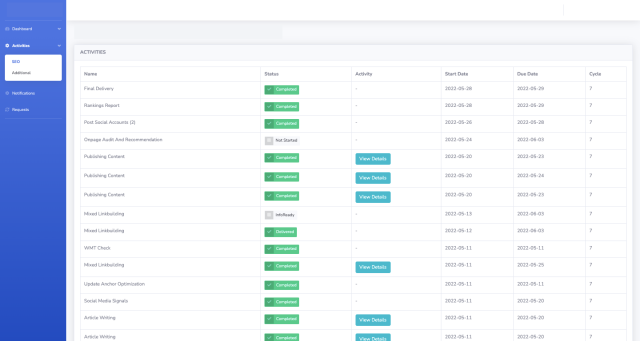 Marketing Engine
Use our in-house marketing engine to find new leads and new opportunities for your business. It does not require any proxies, VPN, or any expensive service as it uses your own Google search. With this free and powerful tool, you can find businesses in any industry worldwide just by putting in your keyword and the target location.
Lead Engine
It is the same technology that we use in-house to track leads. SEO Vendor has used it extensively and refined it to be the simplest and most intuitive tool for keeping track of sales leads. As an agency member, you get free access.
It allows you to stay current on a lead and when to follow up to ensure that you don't miss closings on any deal.
Preliminary Audit
Powered by our patent-pending CORE AI technology, you can use this tool to quickly assess a website, get analysis, and download a branded PDF report to send to your potential clients! It makes use of AI algorithms to generate a detailed report of important SEO parameters with optimization suggestions to put your website ahead of your competition.

Sales Resources
SEO Vendor's comprehensive knowledge library gives you free access to unlimited sales resources that you can use to close a business deal much faster, just like a pro. Use the vast collection of our SEO case studies, sales assets, and training, service samples of deliverables to elevate your business pitch and make instant closings.
Store
The store section on our platform is your one-stop section for all of your digital marketing needs.
You can find all the services we offer including PPC, web development, SEO, and more.
Support
Our team of support specialists are available 24/7 to answer any questions you may have about our platform or how to use it. You can call or leave a message anytime.
Get ready to run your digital agency like never before!
Agency-Vetted White Label Services That Last
Give your agency an edge in the highly competitive online marketing industry with a digital marketing service with evergreen qualities. We invest heavily in technology, expertise and strategies so your campaigns are always on the cutting edge.
Ready to run your agency like never before! Click here to get started.
Here's How Successful Businesses Are Using SEO Vendor's Agency Platform
How to Turn Your $5K Client into $500K Client?
Starting Your Own Digital Marketing Company? Here's How SEO Vendor Can Help!